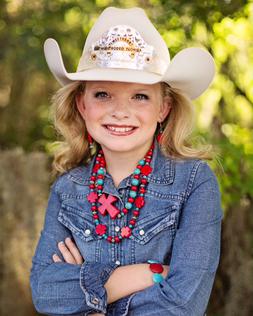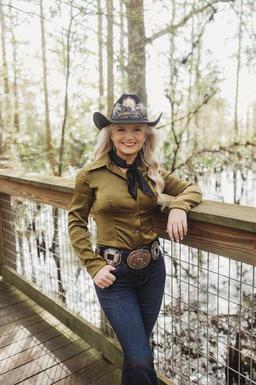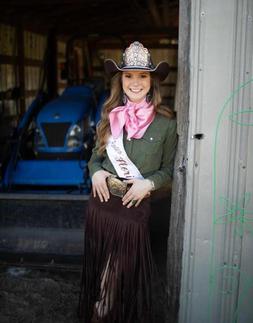 Sierra is the fifteen year old daughter of Michelle Harper, Okeechobee, Florida and Robert Coward of Fort Meade, Florida.  She is a freshman at Okeechobee Freshman Campus where she is enrolled in Honors Courses in English, Geometry, and Biology. She is also attending Leadership and Agriculture courses.

  "Winning the title of Miss Teen Rodeo Florida, 2013 is a wonderful opportunity to share my love of Rodeo with countless people of all ages. I strive to be a role model for other young ladies and encourage them to be leaders in their communities and throughout their lives," explains Sierra. "This opportunity will allow me to further my community involvement through appearances and school visits.  I look forward to representing Florida's youth and Rodeo Heritage."

  In addition to winning the title of Miss Teen Rodeo Florida, 2013, Sierra was honored to win the Photogenic, Speech and Horsemanship awards.  Prior to this title, Sierra won Miss Teen Rodeo Okeechobee, 2012.

Sierra has been a long time participant in equine events and competitions starting with 4-H where she earned the "Most Versatile Horseman" award at the Okeechobee Horse 4H Summer Camp, and earned the right to compete in the State competitions.  During the Welaka Horsemanship School, sponsored by the University of Florida, she earned the "Horseman of the Week" Award. One of Sierra's most memorable achievements was receiving the "Youngest Rider" award on the Florida Cracker Trail Ride for eight consecutive years.  Sierra is also a member of FFA and competes on the Horse Judging Team.  She has studied with trainers in Western and English Equitation as well as Reining and Cutting.

  Sierra's goals are to simultaneously graduate from High School and obtain an AA Degree from Indian River State College.  She then plans to transfer to the University of Florida and complete the Equine Discipline and Equine Science Program. While attending UF she plans to compete on the Equine Team. Sierra also looks forward to competing in the future for the title of Miss Rodeo Florida and on to Miss Rodeo America.

  When thinking about the sport of rodeo, the word that comes to mind for the 2013 Miss Rodeo Florida Princess is tradition.  The sport of rodeo has been a tradition in her family that began with her Grandfather who is a former rodeo competitor and is now one of her strongest supporters.

  CarrieAnn is a member of the Southern Junior Rodeo Association.  She competes in barrel racing, pole bending and goat tying.  She also competes in horseshows through 4-H on the County, District and State level.  In addition, CarrieAnn enjoys participating in Team Sorting events and Speed/Fun Shows.

  She attends St. Thomas Aquinas Catholic School and is a member of the school's drama club and cheerleading squad.  CarrieAnn also cheers for the St. Cloud Bulldogs through Pop Warner.  As an 8 year member of 4-H, she enjoys participating in livestock market events and serves as Historian for

4-H County Council and Secretary for the Osceola County Jr. Cattlemen's Association.

  As the 2013 Miss Rodeo Florida Princess, CarrieAnn attends rodeos, parades and community events and serves as a spokesperson for the Professional Rodeo Cowboys Association.  She is the 12 year old daughter of Karl and Tracy Clements.

  Nicole Lea Boulton is the 9 year-old daughter of James and Julie Boulton of St. Cloud, Florida. She is a 3rd grader, attending Harmony Community School. Some of her interests are Cooking, Gymnastics and dancing Ballet and Tap.  But watch out for this little package…she's a brown belt in Tang Soo Do Martial Arts.

  Nicole has developed a passion, love and motivation for rodeos, pageants and horsemanship. She wants to be a Veterinarian one day and loves the outdoors and animals, especially horses. After learning that she would need to know how to ride a horse if she wanted to be Miss Rodeo Florida one day, she asked her mother to sign her up for riding lessons and the pageant at age six.  She enjoys showing horses in lead line, walk/trot and halter.  Although, she does not have a horse of her own, she is working on a plan!

  Nicole's favorite horse experience is from several years ago when she had the opportunity to build a special relationship with a horse named Doc. Nicole experienced firsthand what it takes to become a horse owner when Doc needed to be bathed, groomed, ridden and fed. What touched her heart the most was the memories she shared with him. Nicole hopes to be able to ride him during her reign as Miss Rodeo Florida Sweetheart 2013.

Miss Rodeo Florida 2013

Jenna Smeenk

Miss Teen Rodeo Florida 2013

Sierra Coward

Miss Rodeo Florida Sweetheart – 2013

Nicole Boulton

Miss Rodeo Florida Princess– 2013

CarrieAnn Clements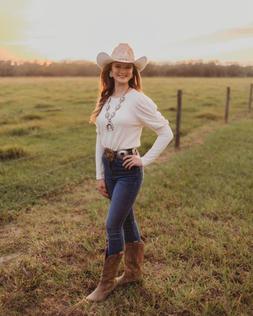 Jenna Rene' Smeenk reigns as Miss Rodeo Florida for 2013. She is 24 years old and hangs her hat in beautiful Destin, Florida.   

  Born on 3rd generation cattle ranch to her parents Greg and Sherry Smeenk, the western way of life began at a young age for Jenna. She has been in the saddle since before she could walk, alongside her older sister, Trisha and younger brother, Jed. Growing up, Jenna competed in barrel racing, pole bending, goat tying and queen contests. She has had honors of competing at the National High School Finals Rodeo two times, and was named a member of the Wrangler All-Star Team and 20X Extreme Team. In college, she competed on South Dakota State University's Equestrian Team as a western rider. Jenna is also honored to be a six year member of the Wrangler National Finals Flag Team, one of the highlights of her rodeo career. 

  Aside from rodeo, the Smeenk's carry on another family tradition: serving our country. Jenna and her two siblings all proudly serve in the Air National Guard. Jenna joined the military right after graduating high school and is currently a Staff Sergeant, working as an Operations Intelligence Analyst at Hurlburt Field. She has served tours in both Iraq and Afghanistan. 

Jenna holds an Associate's Degree in Communications Applications Technology from the Community College of the Air Force, and is currently pursuing a Bachelor's of Science in Advertising as well as Political Science. In her spare time, she enjoys scuba diving and all kinds of dance – ballet, tap, jazz and hip hop. She also dedicates much of her time to community service, volunteering for the Special Olympics, Children's Miracle Network, Harvesting Opportunities to Promote Education (HOPE) Program, Humane Society, and the Suncatcher Therapeutic Riding Center.  
Read more...
"When you have passion for what you do, happiness surrounds you every day!"                           -Jenna Smeenk

This opportunity will allow me to further my community involvement through appearances and school visits.  I look forward to representing Florida's youth and Rodeo Heritage